Press Queries: Call or text 808-282-2743,   email [email protected]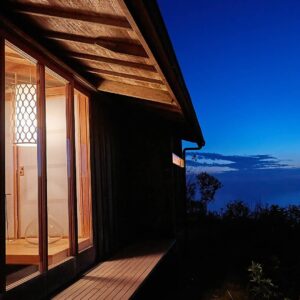 NEW YORK TIMES: Georgia O'Keeffe in a New Light, Hawaii to New York and Between 
Dwell: This House Conquers the Big Island in Hawaii
Modernism in America Awards 2021 Ossipoff Palehua Cabin and Guest Cottage
About Mark Chai
You Can Now Find Hawai'i Artist Mark Chai's Designs in New York City
"Since the early 1990s, the Hawaiian-Chinese UH Mānoa art school graduate has been creating sculptures and lamps from wood as well as recycled cardboard, x-ray film boxes and other discarded materials …
"I think my sense of craftsmanship may have developed when I was really young and we were living in Japan. We were in a military housing complex and I was watching these Japanese craftsmen. They didn't use any nails to put this fence together. They cut and chiseled everything and it all fit together.
"I really liked curves and spheres. One of the people who really helped shape my thinking was Buckminster Fuller. It was so cool he built these giant domes. I actually … met him at the Hilton Hawaiian dome, which he had designed.
"One of the pieces that really caught my imagination was this piece that Picasso did of a bull. He took a bicycle seat and the handlebars and he made this bull's head. Something so simple but brilliant. I started thinking in those terms, looking at things that were designed for one purpose yet you could see something else."
Modern Luxury Hawaii: Art & Soul – Sphere of Influence
"Heliconia Loop contains the precision-driven presentation of Chai's best work. On O'ahu, that includes a sculpture made from recycled materials at Disney's Aulani resort and dazzling lighting at hipster hotel the Surfjack. All radiate a wild imagination and the workmanship of a master craftsman. But the art of Chai is his soul: To assist the Aloha Medical Mission to Nepal in 2015, he created handcut luminaries to help fund medical supplies for volunteers."
PechaKucha Light Shines Bright at the Honolulu Museum of Art
To call him a lamp designer would minimize his artistry. Mark Chai is a sculptor and many of his works produce light. The physical shapes of his structures are organic and sensual. His distillation of light adds emotion; the projections from his lamps create new images and forms. Chai's PechaKucha focused on his process, from the mathematical and structural function to the whimsy of invention and experimentation. He was born in Hawai'i; the organics of the islands are his greatest influence and well evidenced in his work.
Museums
Exhibitions at Hawai'i State Art Museum 2020
Commissions
First Hawaiian Bank opens new Mililani branch 
Honolulu magazine: Staycation Chic
Leilani's on the Beach to reopen following six-month renovation
Leilani's On The Beach to Reopen After Multi-Million Dollar Renovation
Ed Kenney's 4th restaurant Mahina & Sun's opens at Surfjack
Why Honolulu is the next great art city
DISCOVERING THE ALOHA SPIRIT: HONOLULU
Other press
Wallpaper Honolulu City Guide, Phaidon Press, 2009
House Beautiful magazine, "Lanterns," February 2007
MTV, "Real World," January – June 1999
Home magazine, September 1994
Hawaii Business magazine, When A Creative Passion Becomes Your Career