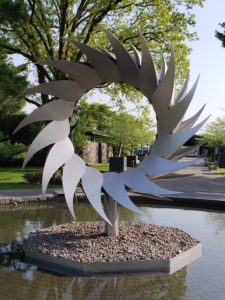 Press Queries: Call or text 808-282-2743,   email Mark@MarkChaiArts.com
NEW YORK TIMES: Georgia O'Keeffe in a New Light, Hawaii to New York and Between
"Other highlights will include a poetry walk featuring the work of W. S. Merwin, a former United States poet laureate and longtime resident of Maui, … installations of sculpture, inspired by Hawaiian flora, by the contemporary Hawaiian artist Mark Chai…"
Dwell: This House Conquers the Big Island in Hawaii
"The pendants are by Mark Chai Arts…"
ArtNet News: In Hawaii, Georgia O'Keeffe Found a New Way to Look at Nature. Now, You Can See Her Works Alongside the Plants That Inspired Them
"The garden looks beyond O'Keeffe as well. Greeting visitors at the entrance's reflecting pool is a massive stainless steel sculpture by Hawaiian artist Mark Chai. The sun-shaped work is actually inspired by one of O'Keeffe's paintings."
Humanities Magazine of the National Endowment for the Humanities: Georgia O'Keeffe Paints Hawaii
"For amblers, there are installations around the garden grounds by contemporary Hawaiian-Chinese sculptor Mark Chai, inspired by the forms of the plants that O'Keeffe encountered while visiting Hawaii."
You Can Now Find Hawai'i Artist Mark Chai's Designs in New York City
"Since the early 1990s, the Hawaiian-Chinese UH Mānoa art school graduate has been creating sculptures and lamps from wood as well as recycled cardboard, x-ray film boxes and other discarded materials …
"I think my sense of craftsmanship may have developed when I was really young and we were living in Japan. We were in a military housing complex and I was watching these Japanese craftsmen. They didn't use any nails to put this fence together. They cut and chiseled everything and it all fit together.
"I really liked curves and spheres. One of the people who really helped shape my thinking was Buckminster Fuller. It was so cool he built these giant domes. I actually … met him at the Hilton Hawaiian dome, which he had designed.
"One of the pieces that really caught my imagination was this piece that Picasso did of a bull. He took a bicycle seat and the handlebars and he made this bull's head. Something so simple but brilliant. I started thinking in those terms, looking at things that were designed for one purpose yet you could see something else."
NYBG Exhibits 'Georgia O'Keeffe: Visions of Hawai'i'
"Sculpture artist Mark Chai has his monumental Heliconia Loop sculpture and 12 hanging lanterns displayed around NYBG for the O'Keeffe exhibit. [photo] Heliconia Loop sculpture created by native Hawaiian artist Mark Chai."
"Contemporary Hawaiian artist Mark Chai is inspired by many of the same plants that O'Keeffe encountered while visiting Hawai'i. His monumental sculpture inspired by heliconia is accompanied by a series of lanterns based on the fruits of many of the most important canoe plants, such as breadfruit ('ulu), candlenut (kukui), screw-pine (hala), and mountain apple (ohi'a 'ai). At night, these shapes come to life with dramatic lighting." VIDEO 
PHOTOS: Georgia O'Keeffe's Hawaii blooms in the Bronx
"Come on select Saturdays from June through August during Aloha Nights to experience the garden at night with illuminated installations by Hawaiian-Chinese sculptor Mark Chai, special events, and themed cocktails and Hawaiian poke."
"Throughout the garden, visitors can encounter more than 300 tropical species planted to coincide with the show, most now in bloom, as well as installations by contemporary Hawaiian-Chinese sculptor Mark Chai."
Modern Luxury Hawaii: Art & Soul – Sphere of Influence
"Heliconia Loop contains the precision-driven presentation of Chai's best work. On O'ahu, that includes a sculpture made from recycled materials at Disney's Aulani resort and dazzling lighting at hipster hotel the Surfjack. All radiate a wild imagination and the workmanship of a master craftsman. But the art of Chai is his soul: To assist the Aloha Medical Mission to Nepal in 2015, he created handcut luminaries to help fund medical supplies for volunteers."
Honolulu magazine: Staycation Chic
Leilani's on the Beach to reopen following six-month renovation
"Custom lighting by artist Mark Chai is one of the featured remodeling elements …"
Leilani's On The Beach to Reopen After Multi-Million Dollar Renovation
"Their house is full of vibrant colors, local-leaning art—Pegge Hopper, Jodi Endicott, Mark Chai—along with prints and pieces gathered from their travels."
Photo
Honolulu Museum of Art – Mark Chai, Lamps and Light Pods, made from recycled plastic and wood.
PechaKucha Light Shines Bright at the Honolulu Museum of Art
To call him a lamp designer would minimize his artistry. Mark Chai is a sculptor and many of his works produce light. The physical shapes of his structures are organic and sensual. His distillation of light adds emotion; the projections from his lamps create new images and forms. Chai's PechaKucha focused on his process, from the mathematical and structural function to the whimsy of invention and experimentation. He was born in Hawai'i; the organics of the islands are his greatest influence and well evidenced in his work.
Ed Kenney's 4th restaurant Mahina & Sun's opens
Ed Kenney's fourth restaurant, Mahina & Sun's, is located at the Suarfjack Hotel and Swim Club on Lewers Street and features wooden orb lamps by local artist Mark Chai.
Why Honolulu is the next great art city
At the Hawaii in Design exhibition at the Honolulu Museum of Art (900 S. Beretania St., runs through March 12, 2017), 10 local artists across disciplines—from mixed media and graphic designers to furniture builders and surfboard shapers—encapsulate this especially engaging art moment we're in.
DISCOVERING THE ALOHA SPIRIT: HONOLULU
"As a staff member eagerly explains the hotel's laundry list of amenities, I take a moment to admire the chic, beach vibe. The handmade wallpaper by Andrew Mau especially catches my eye as it reflects the playful attitude of the hotel. There is also a living fern installation by Paiko Hawaii, painted works by hand-lettering artist Matthew Tapia, and awesome wood-carved lights by local artist Mark Chai in the restaurant located on the side of the pool."
Other press:
Wallpaper Honolulu City Guide, Phaidon Press, 2009
House Beautiful magazine, "Lanterns," February 2007
MTV, "Real World," January – June 1999
Home magazine, September 1994
Hawaii Business magazine, When A Creative Passion Becomes Your Career